Group Pension Schemes
Loyal employees and lower tax bills
Group Pension Schemes
Setting up a workplace pension for your employees feels like a big responsibility. You want a good choice of funds. You need to make sure it'll stand the test of time. And you'd love a slick administration service. We'll research the whole market to find pensions with financial security, low charges and a reliable service. We'll even run pension surgeries for information-hungry employees.
What is a group pension scheme?
A group pension scheme is a workplace pension you run as an employer. But don't be put off by the word 'run'. Because a good insurance provider with a slick administration service will take care of everything for you. 
The most common type of group pension is a Defined Contribution (DC) scheme, where you and your employee contribute a set amount each month to their pension pot.  This is often set up as a 'group personal pension' which simply means that you offer a workplace pension to your employees in line with your duty under the government's automatic enrolment scheme.
"A reliable and slick service is one of the most overlooked essentials if you're administering a group pension arrangement"

– Vikki Claxton, Pension specialist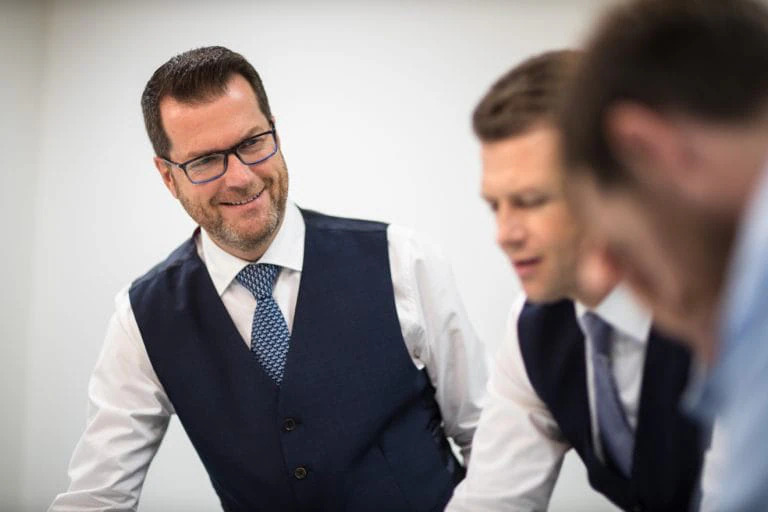 Time to prioritise your pension scheme?
Call Vikki or Simon for no-nonsense pension advice
How do group pension schemes work?
Employees that are signed up to a group pension scheme are classed as members. Contributions from you (the employer) and your members are invested in a range of funds. The aim of the fund is to build up a pot of money that can be used to provide tax-free cash and an income when a member retires. 
As an employer, any pension contributions you make towards an employee's pension are classed as an allowable business expense. Which means you're investing in your employee's future. And reducing your corporation tax bill at the same time.
Discover the best provier

We'll make sure you have financial security, a wide choice of funds, low charges and a reliable service

Confidently identify the right scheme

We'll help you figure out whether you need group personal pensions, company pension plans or group stakeholder pensions

Engage with employees

We'll give your staff information about every aspect of the scheme, from becoming a member to how to convert their savings when they reach retirement

Benefit from tax relief

For every 80p someone puts into a pension, the taxman will turn it into £1

No strings or catches

Just an easy way of making your money work harder
Why choosing a good group pension scheme is important
If The Pensions Regulator (TPR) decides that your workplace pension doesn't meet their auto enrolment requirements, you could face a fine. Along with the difficult task of making the scheme compliant.

Poor administration is the main reason employers end up changing their workplace pension provider. So it's worth vetting this up front.

A well-run pension scheme maintains staff loyalty. So choose a partner that will make sure your employees have a good understanding of the pension, including how to target a specific retirement age and income level, how to match fund choice to risk profile, and how to manage pensions from previous jobs.
---
Ready to pep-up your pension package?
Call Vikki, Simon or the team for
no-nonsense pension advice
Contact us